CyberExam Email Settings For Gmail
Unfortunately the internet is no longer always a safe place to visit and personal security is a very big issue for all internet users.


As a result, there are many filters applied to every email sent over the internet and for many of the larger email providers like Hotmail, Yahoo and Gmail it is easier for them to assume most email is spam and filter it out, unless the sender is on your approved senders list or safe senders list.

We have noticed an increasing number of emails sent by our Practice CyberExam system are not getting through to new users of the system, until after they have added our email addresses or domain name to their approved senders or safe senders lists.




If you have a Hotmail, Yahoo, Gmail or other web type email account, which you use for your Practice CyberExam login, it is important you add our domain names to your approved senders or safe senders lists before you attempt your first exams.


If you are not sure how to set up approved senders or safe senders, please follow the simple steps to make sure you receive our emails.
Gmail Instructions

Step One

Login to your Gmail account and go to your email page.

You are most likely to have the "Create a filter" link available up in the top centre of your email page.
Click on the link.



Step Two

On the next page type @cyberexams.com.au in the "From:" text box and click "Next Step".



Step Three

In the "Create a Filter tab tick the "Never send it to Spam" check box and then click the "Create Filter" button.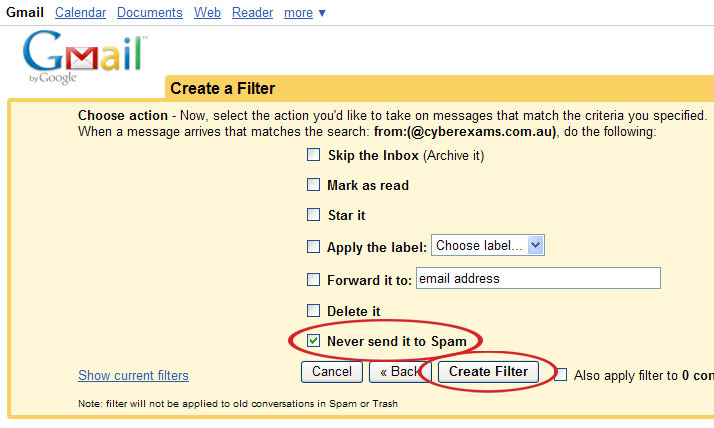 Step Four

You can now see you have now finished the process for @cyberexams.com.au. You should start again and create a filter for @aft.com.au as well, so you are sure to receive any other administration emails from us.